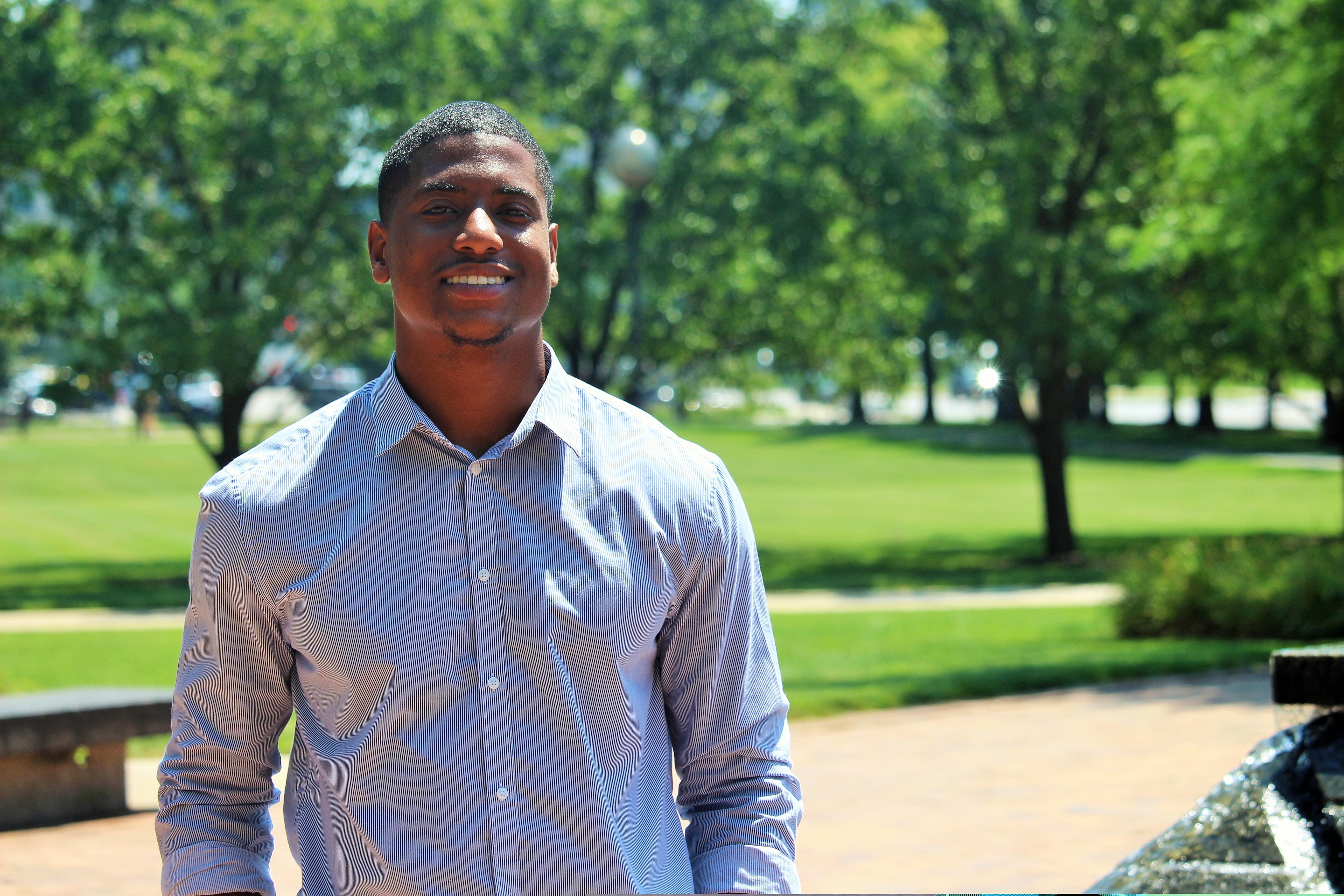 "I came here wanting to go to law school. That was my ultimate goal."
Antoine Burks knew his path. He knew he wanted to become a criminal lawyer. He had mapped out his course to success. To achieve his goal, Burks decided to leave Terre Haute and pursue a Criminal Justice degree from the School of Public and Environmental Affairs at IUPUI.
"I really, really enjoyed the topics and discussions in my criminal justice classes," Burks says.
His plan would then have taken him to law school. But it didn't take long before he realized that even though his dream looked good on paper, it wasn't his passion.
"I want something that my heart is going to be in it, that I'm going to love doing," Burks says. "I really want to do something where I can help people and make a difference."
That's when he decided to change course.
"After I figured out I didn't want to go to law school, why didn't I give up? Why didn't I change majors? Because I enjoyed criminal justice so much."
Burks says SPEA's motto—Major in Making a Difference—is why he shifted his primary focus to criminal justice.
SPEA's criminal justice major teaches students how to protect communities and citizens. The courses provide an in-depth look at the policies, procedures, and history behind America's criminal justice system. Students experience a mix of courses, such as criminological theory and policies, criminal law, policing, data analysis, courts, and corrections. The criminal justice major also provides an opportunity for students to team-up with SPEA faculty to research a wide array of issues happening right here in Indianapolis.
"The professors were great. A lot of the professors were already doing work in the community and that really intrigued me," Burks says. "They didn't just give us books to read or papers to write. They passed on the lessons they learned that I can know use in my life."
SPEA's highly-qualified faculty and the real-world experiences they bring to the classroom are what left a big impression on Burks. He recalls lessons from clinical lecturer Jim White, who served in law enforcement and the military prior to entering the classroom.
"He would teach us the most important things that he learned throughout his career," Burks says. "His real-life stories made the discussions more interesting because he tied them into the what we were talking about."
Those discussions, lessons, and professor interactions led Burks on a path to his Capstone project. SPEA's Capstone classes allow students approaching graduation to share their expertise with the community by tackling real-world challenges that local organizations face. Students work in small groups to analyze data and provide meaningful, concrete, and actionable recommendations to their partner organizations.
Recent SPEA Capstone projects have included work with the Marion County Commission on Youth to assess the effectiveness of its Early Intervention and Prevention Initiative and make recommendations about the program's future. Another project examined the economic impact of the Indianapolis Cultural Trail and ways to improve it.
Burks retained the research skills he developed in his Capstone class and has used them in his career.
"I researched what other drug courts, what other entry courts are doing, ways that we can be better in our job," he says. "We can come up with ideas based on that research because the research is essential."
After earning his degree in 2015, Burks worked as a senior case manager in the Marion County Drug Treatment Court Diversion and Re-Entry Court Programs. He says that while some people may have preconceived impressions about those serving time in the system, that's not how he views people with whom he works.
"They've just made bad choices and they have the capability to make good choices now," he says. "They very well have the power to do that today and their lives can turn around."
Burks' commitment to that calling combined with his education in criminal justice may mean another course correction is on the horizon. He eventually wants to start a nonprofit that will simultaneously focus on helping youth in the juvenile justice system, while working to prevent other young people from making the same mistakes.
"I'm trying to help them change their lives and put a stop to young people who are on that path, who could eventually end up in the justice system."
While he may have changed course during his career at IUPUI, Antoine Burks has his mind set on a new goal now. It isn't one that is tied to a specific career path or a job title. Instead, it's a mission-driven, community-focused goal that was built upon SPEA's foundation to Major in Making a Difference. As Burks has learned, change is a necessary part of that mission.
"You never know if you're going to change something if you don't do something. You never know if it's going to work if you don't try it," he says.
"I want to change people's lives."