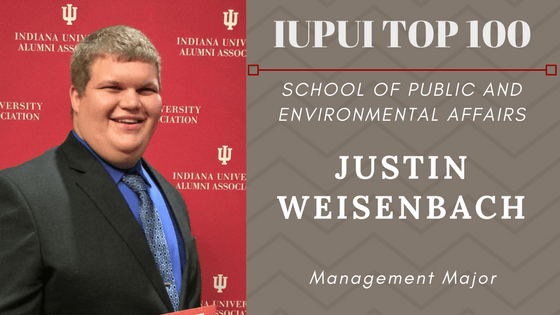 Justin Weisenbach is on track to graduate with a management degree from SPEA. He says he was surprised and excited to learn he had been selected as one of IUPUI's Top 100 students. Each year, the IUPUI Office of Alumni Relations honors 100 outstanding undergraduate students. These students have a record of demonstrating academic excellence, campus leadership, and community engagement. Weisenbach and two other SPEA students will be honored at this year's Top 100 Award Dinner on April 13.
1)  Why did you choose to attend SPEA Indy?
When I visited IUPUI during my senior year in high school, I quickly realized it was the school I wanted to attend. I decided to continue my education in SPEA after participating in the school's JagDay event. I have also always had an interest in helping the community, and chose SPEA for its public and nonprofit management degree. The campus atmosphere and the enthusiasm of everyone I met during the visit made my decision very easy.
2) What has been one of your most memorable projects in SPEA?
During my first semester, I was in SPEA V-100 and participated in Toastmasters at the Indianapolis Reentry Facility (IREF). This course allowed me to interact with IREF residents, hear their experiences and improve my public speaking skills.
3)  What advice would you have for students just starting out in SPEA?
I would encourage students to get involved with campus activities and the community around IUPUI through opportunities such as SPEA Ambassadors and SPEA Student Council. I also was a Sam H. Jones Service Corps Scholar, which allowed me many opportunities to volunteer at community events.
4)  What are your plans for after graduation?
In addition to my SPEA management degree, I also am pursuing a degree in museum studies at IUPUI. I hope to use the combination of these to begin a career at a museum. It has always been my dream to work in a museum setting and to help the public better connect and understand their own history.