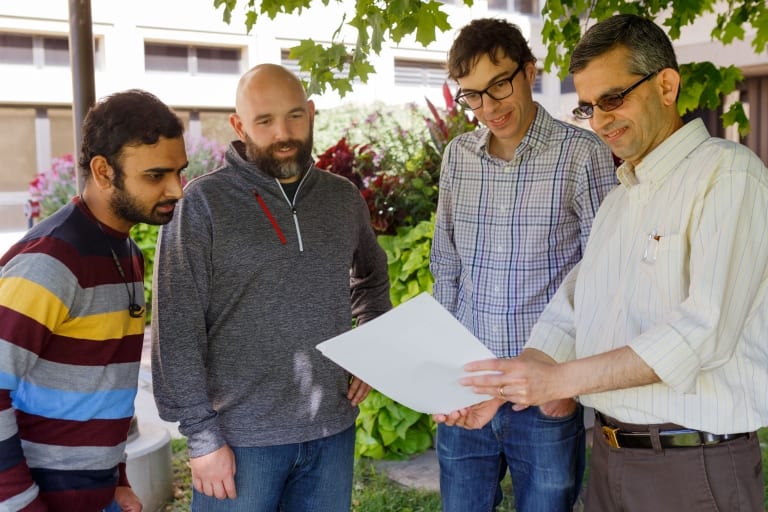 Police forces and city governments around the world — burdened by competing demands and limited resources — must make hard, critical decisions every day about how best to deal with crime, drug use, traffic crashes, medical emergencies and more.
IUPUI researchers have received a grant to provide help. Through a three-year, $791,513 grant from the Smart and Connected Communities program of the National Science Foundation, the researchers are developing a system that can predict where and when these and other social harm events are likely to occur.
George Mohler and Rajeev Raje of the School of Science at IUPUI, collaborating with Jeremy Carter, director of criminal justice in the School of Public and Environmental Affairs at IUPUI, will devise algorithms and a software system to collect and analyze data, enabling stakeholders to make dynamic predictions of social harm incidents. Such analyses will empower stakeholders to make informed decisions about how to allocate limited resources to maintain and improve the quality of life in the communities they serve.
"Police don't only deal with crimes; they deal with many social harms," Mohler said. "Our new NSF-funded project embraces the bigger picture of policing, and of smart cities in general. There are all sorts of patterns for which we can develop algorithms to detect, weigh their importance and come up with risk scores that can be used to allocate resources effectively."
The innovative IUPUI undertaking will build upon grant principal investigator Mohler's decade-long research on predictive policing and will expand beyond prediction of future crimes to include social harms. Mohler is an associate professor of computer and information science in the School of Science. He is also a co-founder and board member of PredPol, a California-based company that applies statistical models to historical crime data. The proposed system will be developed using the concepts of trusted distributed systems, a research focus of Raje, a professor of computer and information science in the School of Science.
Current policing interventions that focus on hot spots — for example, certain blocks on a street are known to be popular locations for drug sales — are often too narrow and seek only to optimize crime reductions, ignoring other social harms. Police and others want to know more about what is happening in their communities.
"What we are predicting is the dynamic risk of social harm events. If we put quantified risk behind prevention, we can play the odds and hopefully position police, EMS and others in the right places at the times when social harms are most likely to occur," said Carter, the criminologist who is a co-principal investigator on the NSF grant. "Crime, drug usage and motor vehicle crashes concentrate in time and place and are to some degree predictable because people have routine activities."
Working with the Indianapolis Metropolitan Police Department, Indianapolis Emergency Medical Services, the mayor's office and other community partners, the IUPUI computer scientists and criminologists will study social systems, estimate the probability of specific harmful events and determine the effects of specific actions.
With the assistance of IUPUI graduate students from computer science and criminology, the researchers will gather relevant data from a variety of sources and make a predictive analytics software application available to government services as well as community groups.
The final phase of the NSF-supported project will be a randomized controlled field trial in Indianapolis. The trial will measure the impact of interventions — such as allocation of specific resources to locations during times where they are most needed — across crime, traffic crashes and EMS calls for service, as well as changes in community trust in police within high-risk communities.