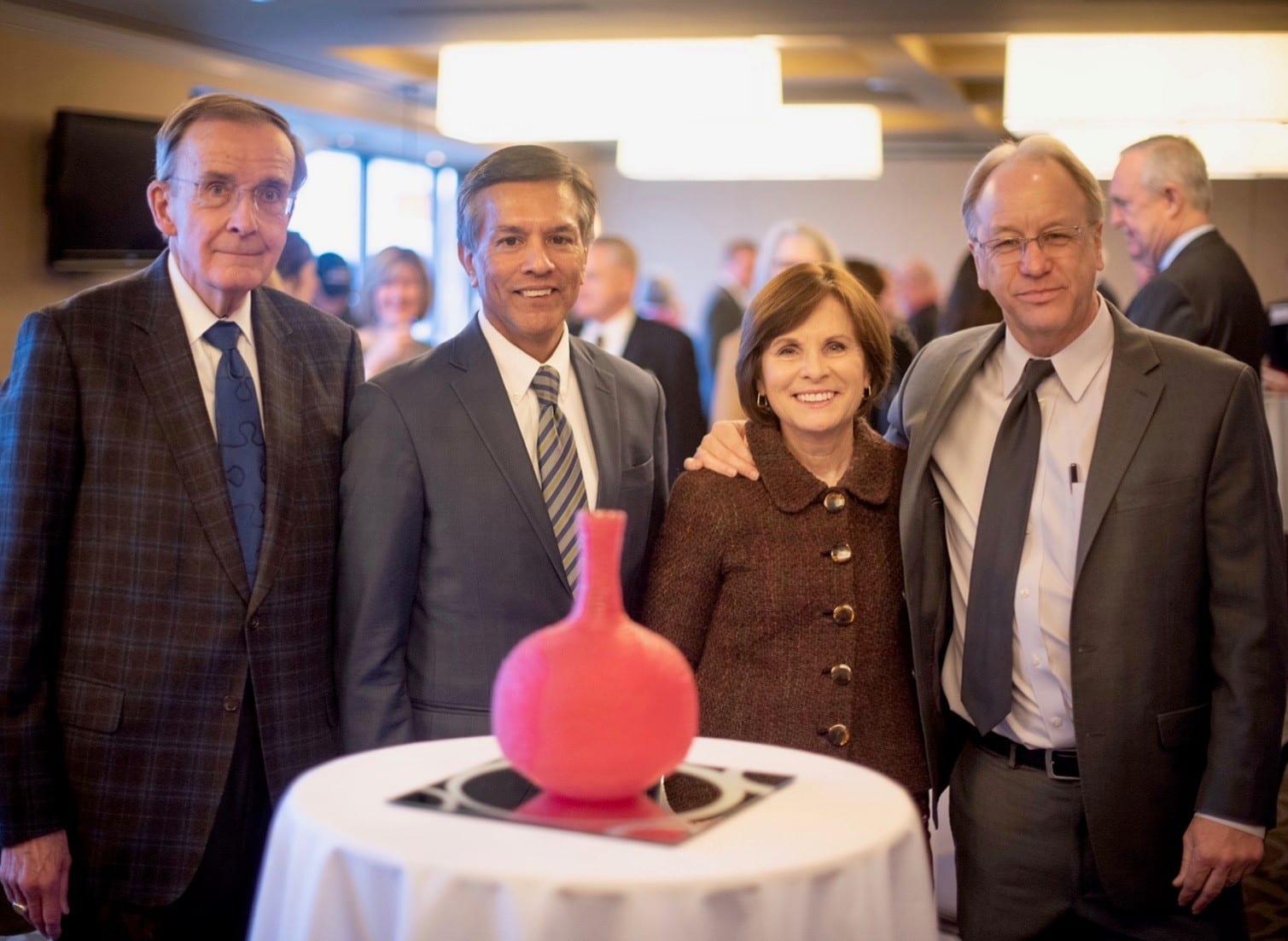 Carlstedt, who has served as president and CEO of the Indianapolis Neighborhood Housing Partnership for the past 21 years, was presented with the John L. Krauss Award for Public Policy Innovation. The biennial award is given to an individual or entity for applied research or activity that helps the state of Indiana and/or Indiana communities with real-world solutions.
"While my name appears on this award, it truly is recognition of the entire team at INHP for their commitment to the community," she says. "This award reinforces the importance and value of data, and the leadership role INHP plays in the community."
Carlstedt and her staff serve as a resource for low- and moderate-income families around Marion County who are looking to purchase a home or make essential repairs to their existing homes. INHP also helps local neighborhoods achieve their priorities for development and revitalization.
The organization was established in the 1980s to help homeowners who received building code violations for items such as crumbling exteriors and electrical, roofing, or plumbing issues. Too often, local homeowners didn't have the financial resources to fix the problems. That's where INHP stepped in. The organization helps guide the families they serve through the process of securing affordable home repair loans that allow them to make their home safe and habitable.
As the organization has evolved, they have grown to meet the needs of potential homeowners, as well. INHP provides access to affordable, sustainable home purchase loans through its successful public-private partnerships. Yet a key element in providing access to affordable loans is first providing clients with homebuyer education, and mortgage and credit advising.
"Success in our homeownership preparation program is that you are able to access likely the largest debt you'll ever have in your life," Carlstedt says. "The difference is that if you come through INHP, you're prepared for the new choices available to you, and are more in control of your financial life than ever before."
For Carlstedt, part of that process is helping clients understand the facts of homeownership. She says many of the families they work with face both real and perceived barriers to buying a home or retaining their current residence.
"The real barriers are often credit challenges that reflect poor budgeting skills, or late or missed payments," she says. "Perceived barriers typically come from individuals who never experienced homeownership growing up and don't know anyone who owns a home. They have made assumptions about what's required, but we help them learn the facts."
Learning those facts often opens the door to opportunities many working families didn't know existed.
"They decide the journey they want to take and we come alongside to support them on that journey," Carlstedt says.
The support INHP provides clients is driven by data that focuses on the reality of homeownership and home retention, allowing the group to truly understand what happens throughout the buying process and beyond.
"It's important we understand what happens when someone applies for a mortgage—whether it's an approval or denial," Carlstedt says. "We need to know the factors that went into that decision. We need to understand the barriers so we can design our program to appropriately address them."
The Public Policy Institute works with INHP to gather data, put it into easy-to-understand terms, and help INHP make the decisions that will best serve their clients. Through the PPI partnership, INHP has improved the way it measures its program impact, has improved housing stock, and has shaped local policy to increase homeownership.
"Under Moira's leadership, INHP has become one of the most impactful, dynamic, and accountable organizations serving Indianapolis' neighborhoods," says Tom Guevara, PPI's director. "As an institute dedicated to producing unbiased, high-quality research, analyses, and policy guidance, PPI is proud to have partnered with INHP for so many years to improve the quality of life in our community."
Carlstedt says the partnership with PPI has helped families throughout the Indianapolis area realize their dreams.
"They're generally very emotional when they learn they've qualified for the mortgage of their choice," she says. "Yes, we're part of the success, but the work is done by the families. It always comes back to the families."