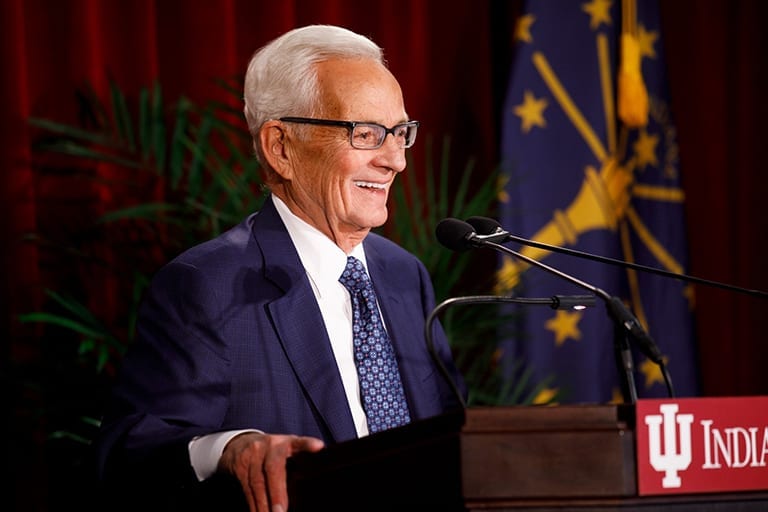 Honoring former secretary of the U.S. Treasury and Indiana University alumnus Paul H. O'Neill, IU President Michael A. McRobbie has announced the renaming of the Indiana University School of Public and Environmental Affairs.
The school—which in 2018 was named the No. 1 public affairs graduate program by U.S. News and World Report—will be renamed the Paul H. O'Neill School of Public and Environmental Affairs in recognition of O'Neill's distinguished career in both the private and public sectors and his generous $30 million gift to support programming within the school.
The naming extends to both the IU Bloomington and IUPUI campus schools. In addition to maintaining the No. 1 overall Master of Public Affairs ranking, the Bloomington school's graduate programs in nonprofit management, environmental policy and management, and public finance and budgeting are all considered the best in the nation.
"For more than four decades, Indiana University's top-ranked School of Public and Environmental Affairs has produced groundbreaking interdisciplinary research that has contributed solutions to some of society's most pressing needs, while also producing outstanding graduates who work around our state and the world to identify, define and help resolve many of our most challenging problems," McRobbie said. "With this extraordinary gift from former Secretary O'Neill, and under its new name, the school is poised to further its enormous success in developing future generations of civic-minded leaders and providing them with the knowledge, skills and experience to build a better world.
"All of us at IU are profoundly grateful to Secretary O'Neill and his wife, Nancy, for their remarkably generous support and for all that they have done to ensure the success of our students, our faculty and staff, and a school that has become synonymous with excellence."
O'Neill's transformative gift will establish the Paul H. O'Neill Center on Leadership in Public Service, a dean's initiatives fund, three faculty chair positions, five professorships, a fellowship program for master's, doctoral and postdoctoral students, and a scholarship program, which will continue in perpetuity. Together, these contributions will enable school leadership to nimbly seize upon educational opportunities, adapt to change, and recruit the country's most talented teachers, researchers and future leaders.
"Over half a century ago I was afforded the opportunity to come to Indiana University, which I count among the great good fortunes of my life," O'Neill said. "Here, I encountered an endless feast of learning alongside wonderful faculty and students dedicated to the noble calling of public service. My education at IU was instrumental in preparing me for all that followed throughout a diverse and meaningful career.
"I am honored to now have the opportunity to give back to this exemplary institution, which means so much to me. My hope is that the school remains a place of excellence where future leaders can combine passion with action and develop the confidence they need to engage with society's greatest challenges and opportunities."
O'Neill's career began with the U.S. Veterans Administration in 1961. He came to Indiana University as part of the federal government's Education for Public Management program, which sent promising mid-career federal employees to various universities for advanced studies.
After graduating with his Master of Public Administration from Indiana University in 1966, O'Neill spent 10 years with the U.S. Office of Management and Budget, rising to the rank of deputy director. He then served as vice president and president of International Paper Co., chairman of the RAND Corp., and chairman and CEO of Alcoa. In 1998, he co-founded the nonprofit Pittsburgh Regional Healthcare Initiative to address problems of regional health care, and in 2001, he was appointed the 72nd secretary of the U.S. Department of the Treasury by then President George W. Bush.
In 2014, O'Neill was awarded an honorary Doctor of Humane Letters from Indiana University.
"Paul's success is marked by the versatile leadership he has applied across all sectors of the economy: public, private and nonprofit," said John Graham, dean of the Paul H. O'Neill School of Public and Environmental Affairs. "His dedication to public and community service, his business acumen, and his strong sense of integrity are traits that our students should be proud to carry forward. He is an inspirational example of leading for the greater good."
The IU Board of Trustees approved the naming at its Dec. 7 meeting. The name change will be effective as of March 4, and the school is planning a formal renaming ceremony to take place later this year.
"Mr. O'Neill's support is certainly transformative for IU's School of Public and Environmental Affairs, but equally important is his willingness to allow us to name the school in his honor," said Lauren Robel, IU Bloomington provost and executive vice president. "Mr. O'Neill is widely admired for the vision, dedication to service and integrity he displayed throughout his many years of leadership at the highest levels of government and business. By bearing his name, the school will forever be associated with and guided by these qualities."
O'Neill previously provided a $3 million gift to the school in 2014, supporting the development of its state-of-the-art, LEED Gold Certified graduate center, which was dedicated in March 2017.
This gift counts toward the $3 billion For All: The Indiana University Bicentennial Campaign.
About the Paul H. O'Neill School of Public and Environmental Affairs
The Paul H. O'Neill School of Public and Environmental Affairs at Indiana University is a professional school with 140 full-time faculty serving more than 4,000 students on two campuses: Bloomington and Indianapolis. Founded in 1972, the school was the first of its kind to combine public policy, management and administration with environmental studies. The O'Neill School provides international scope, influential research and focused opportunities for students to pair a comprehensive foundation of knowledge with hands-on experience in the field. Its more than 34,000 alumni work in the public, private and nonprofit sectors around the world.
About the IU Foundation
Founded in 1936, the Indiana University Foundation maximizes private support for Indiana University by fostering lifelong relationships with key stakeholders and providing advancement leadership and fundraising services for campuses and units across the university. Today, the IU Foundation oversees one of the largest public university endowments in the country, with a market value in excess of $2.25 billion. IU is consistently ranked among the top four of Big Ten universities in annual voluntary support.