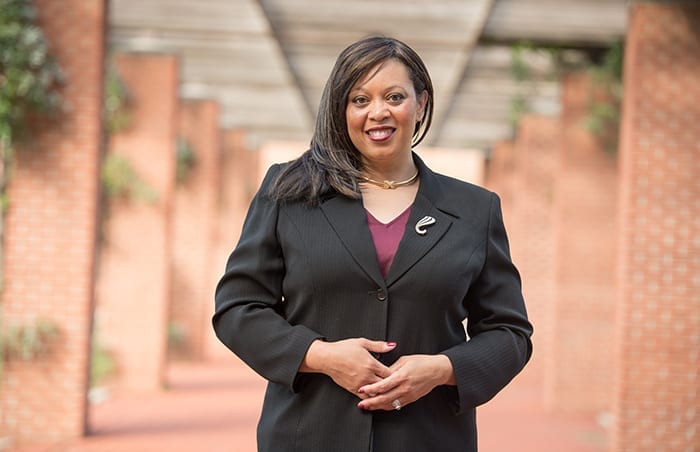 SPEA alumna Tasha Phelps spent more than two decades building her information technology company from the ground up. A business degree helped lay the foundation for Phelco Technologies but as its focus shifted from the private sector to contracts with law enforcement and state government agencies, Phelps knew her business degree alone would not be enough.
"I wanted to be able to communicate better and at a different level with my clients," she recalls.
Phelps needed—and wanted—to learn more about this new breed of clientele and how her company could help them assess the impact of their IT systems on public safety.
After a conversation with SPEA Executive Associate Dean Tom Stucky, Phelps enrolled in SPEA's Homeland Security and Emergency Management graduate certificate program. Even though she earned that certificate, she wasn't finished learning.
"It was the carrot in front of me," she recalls. "Earning my master's would … allow me to have more informed conversations with the clients I serve."
She wanted to learn how criminal justice and public safety organizations operated, and how citizens can impact those agencies. So Phelps continued on, earning her Criminal Justice and Public Safety master's degree from SPEA in 2016.
"The education at SPEA is what gave me the insight into how public safety professionals are trained to think and behave," Phelps says. "I can't put into words how critical that level of information is to someone in this industry."
Phelps says the courses immersed her in the criminal justice system, helping her understand why and how things happen. She learned the intricacies of public safety planning and the behind-the-scenes efforts that go into keeping the public safe.
"Because I now know the system better," she says, "I can ask questions about how my clients are positioned within the system, and why or how they're limited within it as well."
But she stresses the expertise she gained in SPEA came from more than textbooks.
"Having fellow students from different generations, socioeconomic backgrounds, and racial groups gave us all an opportunity to better understand one another as citizens and how we perceive and receive certain information," she adds.
She also credits SPEA faculty members with being open to the new perspectives that a diverse student body brings to the classroom.
"Every instructor I had was committed to the information they were sharing, but were open to hearing about others' experiences and views," she says. "If I challenged a professor, they respectfully came back to me with additional information as to why they were positioned in the way that they were."
In 2017, Phelps served on a delegation of women in cybersecurity for the Executive Women's Forum on a trip to Washington, D.C. She says discussing the role of women in cybersecurity with lawmakers on Capitol Hill opened doors and eyes to the future of the industry.
"My education in criminal justice and public safety gave me an understanding that allowed me to have a direct connection to suggesting to legislators that policies should be written or adjusted to reflect the changing times and how information is shared," she says.
That same understanding also helped prepare Phelps to better serve her own community. She sits on the board of the Indy Chamber of Commerce's Business Owner Initiative, which oversees the ReEntry Entrepreneurship Development Initiative. The project provides business training and education to incarcerated and formerly-incarcerated individuals.
Yet Phelps' newest venture is what she hopes will be her legacy in Indianapolis. Project ENGAGE is a public safety initiative to bring law enforcement, community members, and lawmakers together in conversation.
"We're not law enforcement, but I can build that bridge because of the education that I gained through SPEA," she says. "I can have conversations on both sides because I am both sides, to some degree.  I am a member of the community as much as I am—now—considered a public safety professional."
The concept of Project ENGAGE centers on a video simulation of active-shooter scenarios, school violence, or vehicle stops. Phelps says private and nonprofit organizations can use the program to train employees on emergency procedures or to better understand different types of high-pressure situations.
"It's an active opportunity for citizens to be in the virtual shoes of law enforcement to determine what they would do in a given scenario," she says. "We want to give people the experience to know what it's like and to see how things can shift at the drop of a hat."
Project ENGAGE also allows law enforcement to better understand what's going through the minds of citizens during those various situations, a key component in productive conversations.
Phelps says those critical conversations are her focus now: effecting change in her own community and leaving a better world for those who come behind her.
"I may not be the entire catalyst to change but I can at least do my part with the footsteps that I take," she says. "As long as the conversation happens. That's what I'm focused on most."