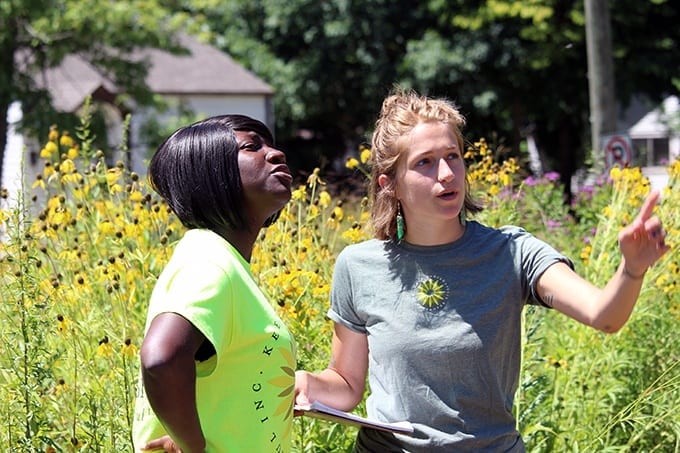 "I want people to see sustainability the way I see it," Gifty Adusei says, smiling. "I don't want to talk sustainability; I want to live it."
She spends much of her time checking local green spaces around Indianapolis. The O'Neill Environmental Policy and Sustainability graduate student is looking at how plants are faring, checking on the health of the trees, and whether the neighbors who partnered with Keep Indianapolis Beautiful to create this space are working to maintain it.
Adusei's sustainability journey began more than 5,600 miles from Indianapolis. While pursuing her undergraduate degree in her native Ghana, Adusei was introduced to environmental management. She knew she wanted to take that mission further but would need more experience and education under her belt.
While still in Ghana, she worked for a nonprofit focused on community sustainability.
"It was quite obvious that a lot of the problems the local people had were linked to issues with sustainability practices," Adusei says. "They hadn't gotten to the point where they appreciated the things that would help them in terms of farming or bodies of water, for example."
Adusei wants to be the one to change that, but she says the courses she needed to prepare weren't available in Ghana.
"One of the things I was looking for was a program that emphasized the practical side of sustainability," she adds. "I saw O'Neill's internships and capstone project and knew it would give me that practical experience I was searching for."
For Adusei, the hands-on experience would come in the form of a sustainability internship. She worked with IUPUI's Office of Sustainability to secure an internship and even went through the office's week-long Sustainability Bootcamp to better prepare herself.
"I wanted an internship that worked with the community," she says. "I wanted to observe how that works. I felt if my end goal was to work in community sustainability it would be best if I watched how other people did it."
Kelly DeRolf would be the one to show her how. DeRolf is KIB's stewardship coordinator and has overseen Adusei's internship with the group. DeRolf's program focuses on management of community-run green spaces around the city.
"There's a big emphasis on community engagement and having the community members take care of their green space," DeRolf explains. "We want to empower people to know they have the resources and the know-how to take care of these spaces."
Communities can apply for a grant to create the space. A community board manages it, while KIB provides support materials—such as mulch, new plants, and tools—and leads two work days a year.
DeRolf and Adusei also travel the city, grading each green space on plant health and upkeep. They work to map the green spaces and look for opportunities where they could come alongside community groups to help support them.
Some of that comes through education. Adusei admits she didn't have a background in native plants when the internship began. As the team at KIB helped her learn, it helped them better understand how to educate the public about the same topic.
DeRolf says Adusei's desire to learn was a big part of what they're looking for in a candidate.
"We want them to care," DeRolf adds. "We're looking for people who are community-minded and interested in sustainability. We're looking for interns who have an interest in community projects, who understand and care about what it takes to make something sustainable within community groups."
Adusei says her O'Neill courses gave her the foundation she needed to dive into those types of projects.
"In Environmental Public Policy, we learned about meeting a community within their own sphere," she recalls. "You want people to realize that you care about them and the topic, and that you're not just trying to impose something on them. You want them to see the good of the project on their own and to work with you to bring it to fruition."
Adusei's passion for sustainability is hard to miss, as is her thirst for more knowledge about the topic and its far-reaching scope. She says through her O'Neill courses, the Office of Sustainability's bootcamp, and her internship with KIB, she has learned that sustainability is about more than the environment.
"Certainly, there's the environmental side, but there are also the economic and social sides," she adds. "For sustainability to truly work, you need all three sides."
For now, she isn't sure which side she will ultimately end up focusing on once she has her degree. But she says her dedication to sustainability won't change, nor will her dedication to those who first made her look at the issue more closely.
"I really want to be in a position where I have the knowledge and capacity to come back and help people in Ghana," she adds. "I want them to understand the benefit it could have for them, personally, and for the environment. I want them to see the impact it's having on their lives now and how it can impact everyone's future."