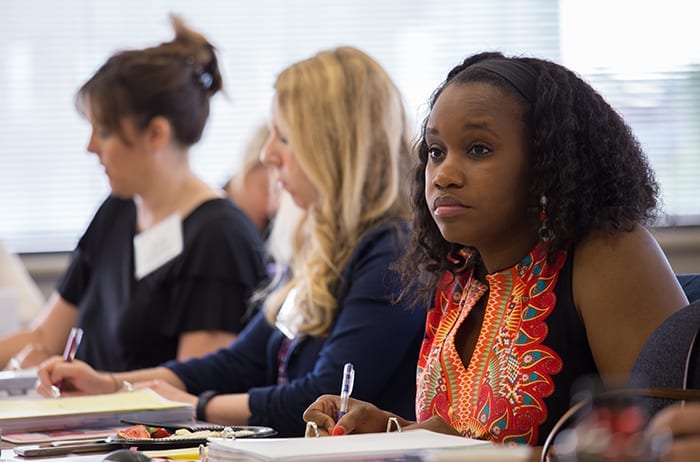 For more than 25 years, Indiana University Executive Education has partnered with the Indiana Hospital Association to conduct the IHA Management Institute, specifically designed for managers in IHA-member health care organizations.
During the 6-month-long course, participants learn how to effectively communicate with and manage a diverse team made up of varying generations and work styles, and lead their employees toward excellence.
Those who successfully complete 9 of the 10 courses will qualify for the Healthcare Manager Certificate. Institute sessions include discussions on:
Management style and listening practices
Building successful teams
Managing in a changing work environment
The art of successful interviewing
Managing time and stress on the job
Building employee success
Critical human resources practices
Financial management
Conflict resolution and dealing with difficult people
Becoming a 'star' performer
Mary Anna Weber, president of Angotti Weber and Associates, serves as a faculty member for the Institute and leads the course on building employee success through coaching. As part of that class, Weber collaborated with Stephanie Wood, a 17-year veteran of Community Health Network who now works as an executive coach, to discuss some of the challenges managers encounter when it comes to coaching.
"Sometimes as a supervisor, it's really challenging to understand how to coach and how it fits into the work you're doing as a supervisor to help your employees move forward," Weber says. "But coaching is really just helping our employees meet their goals and holding them accountable."
Yet Weber and Wood both admit it's not as easy as it sounds and there are plenty of challenges along the way.
"As leaders, we may get into a rut of only directing and telling our employees," Wood says. "When we tell people something versus asking them, we're requiring them to follow our directives, to buy into our agenda. When you're coaching, you ask them questions and they typically know all the answers themselves. That allows them to discover on their own what the best path forward is, even if it affects their own performance."
Wood also points out that the type of coaching questions managers ask are important.
"Early on when I was being certified as a coach, I kept asking closed-ended questions," she recalls. "To avoid that pitfall, think of questions you would ask as a leader and change the beginning to 'how would you' rather than 'would you' or 'what would you' instead of 'would you.' That can take any question that's closed-ended and make it open-ended."
Those are the types of practical skills attendees gain during each session of the Institute. Just as Wood shares her own experiences, Weber says it's important that those in her course bring their real-life experiences into the classroom with them, as well.
"In our class, we'll go through talent coaching situations that participants are facing and provide advice on how to manage those situations," she says. "They'll walk away with a performance development toolkit that will give them the skills to have coaching conversations and help their employees move toward their performance goals."
The deadline to register for the next IHA Management Institute cohort is Jan. 2, 2019, with classes beginning on January 8, 2019. For more information on the Institute or to register, visit this link.
To hear the rest of Weber's conversation with Wood on coaching, click on the podcast below.
To download a transcription of the podcast, click here.