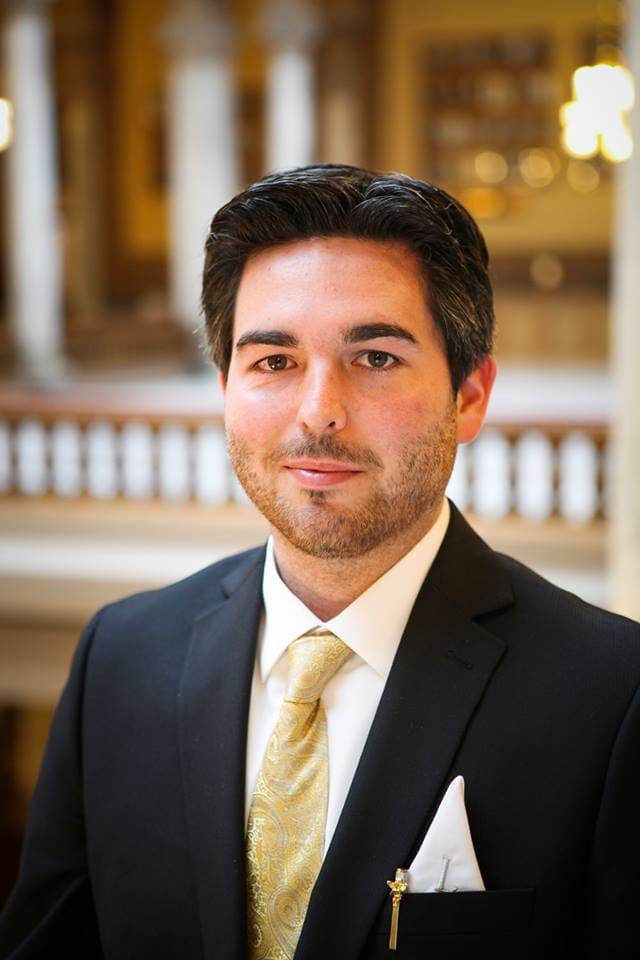 To apply for the Borst Fellowship for the upcoming legislative session, contact O'Neill Career Advisor Stacy Lozer at slozer@iupui.edu.
Jordan Lett became a Borst Fellow while pursuing his MPA at the O'Neill School. What began as a fellowship focused on fiscal impact led him directly into his current job for the state budget agency.
"This fellowship helped me secure a job and make connections for my career," he says. "It provides an opportunity to really get your foot in the door and find out what areas of public policy or government truly interest you."
Lett's story is one Kathleen Hursh, former associate director of O'Neill Career Services, hears every year. Hursh headed up the Borst Fellowship recruiting process for the school during her time with O'Neill. She says the fellowship opens doors that extend well beyond the Statehouse.
"We have never had a Borst Fellow who hasn't been funneled into a really great job," Hursh says. "This is a pipeline into the political, private, and nonprofit sectors because students have a rare opportunity to be at the table with influential people discussing critically important topics."
Named for former state Sen. Lawrence Borst, the fellowship is a year-long experience that places a student in the Statehouse, researching fiscal policy issues for lawmakers. While applicants are interviewed by leaders in the majority party, their work focuses on nonpartisan research.
"Working with whoever the majority party ensures that students are with the people who make the final decisions," Lett says. "This internship takes a pretty high level of maturity. Regardless of your personal politics, you're here to do a job. You're here to be objective."
Lett says his love for politics originated in his high school's mock legislature. By the time college rolled around, he was hooked.
Lett was in the midst of earning his undergraduate degree in political science when O'Neill Professor Emeritus Sheila Kennedy met with political science students at his college in northern Indiana. He credits that meeting with bringing him to O'Neill to pursue his master's degree in public affairs, focusing on policy analysis and urban affairs.
"Professor Kennedy prompted me to look into the O'Neill School," he recalls. "Indianapolis' location provided easy access to state government and I really liked that."
Lett had already dipped his toe into the political policy pool as an undergrad. He interned with The Fund for American Studies in Washington, D.C., and with Project Vote Smart in Montana. He worked for an environmental lobbyist group as well as with several political campaigns.
"I've run the gambit of nonpartisan, lobbying, political campaigns, and government," he laughs.
But as a grad student, the Borst Fellowship piqued his interest.
"I knew the previous Borst Fellow and he told me that I would be a good fit for the program," Lett says. "It's such a great opportunity to get connected to every avenue of state government."
Lett started in the fall of 2017, researching state government and topics that would likely come before the legislature in the spring, all while taking a full load of classes.
"Fall is your prep time," he cautions. "You're going to get thrown into the deep end working for the fiscal office once you're in session."
Lett attended interim study committee sessions on topics that were identified as potential bills for the upcoming session. He listened to testimony during the committee meetings, did research on what was being discussed, and developed "cheat sheets" for lawmakers.
"When you're sitting in session and legal experts and other House and Senate members are testifying on bills, they all have their own jargon," he recalls. "You need that background from the study committees to follow along during session, otherwise you get lost very easily."
Once the session began in the spring, Lett had to hit the ground running.
"There were some days in session where I was barely at my desk," he recalls. "I was running from floor to floor, staffing committees, summarizing notes. You even have a chance to be a legislative assistant during some staff meetings and give policy summaries."
Those experiences and his courses in O'Neill's MPA program prepared Lett for the work he's now doing for the state. He spends his days monitoring and tracking funds for state agencies, ensuring they're in compliance with state laws and regulations.
"This Fellowship is full of opportunity," he says. "It lets you really get involved in state government, allows you to be in meetings with political, nonprofit, and business leaders. It can provide a stepping stone into a multitude of career paths and students should jump at that opportunity."