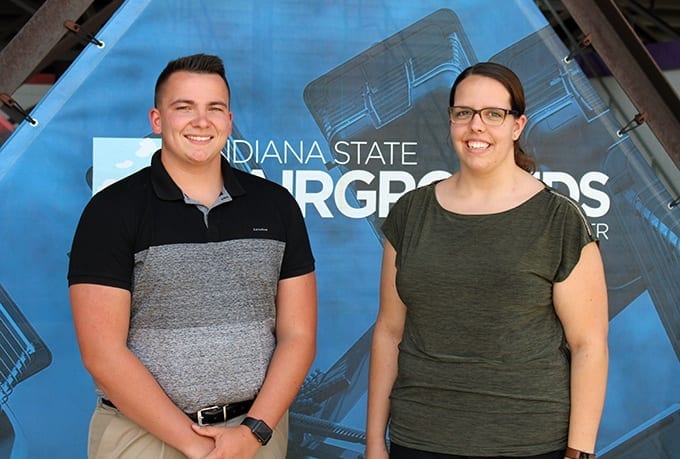 More than 900,000 people are expected to visit the Indiana State Fair during the next two weeks, with many lining up to watch this year's center stage spectacle:  the Big Top Circus.
Much like what happens under that big top, most visitors will only see the magic of the fair and not the hard work behind the scenes. For the Indiana State Fairground & Event Center's safety and security manager, Jennifer Esterline, that's exactly how it should be. And she has more than a dozen interns—many from O'Neill Indianapolis—to help make that happen.
"We hire 17–18 interns—including freshmen and sophomores—to fill positions in hazard assessment, traffic, incident report writing, security operations, and the emergency operations center," Esterline says.
The variety of options allow students, like O'Neill public safety management major Logan Kinnett, to explore the field before narrowing down a career path.
"I knew I wanted to work in law enforcement, but I wasn't sure which area," he says. "This is a good opportunity to see how federal, state, and local agencies work together while networking with professionals in multiple fields."
Kinnett and other interns have spent all summer preparing for the 17-day event. Despite just finishing his first year with O'Neill, he credits his freshman courses with preparing him for this experience.
"What I learned in the classroom has carried over to this internship," Kinnett says. "We've been writing out threat assessments and creating security plans. Now, I'm watching those plans play out in real time."
Esterline says that's one of the most unique aspects of her program.
"In other internships, you may plan for a flood or a tornado, but you likely won't see that plan be executed," she says. "There's a fair every August. You get to plan for it, respond to it, and see your work in action."
Students and their plans will face their biggest test on $2 Tuesday, the fair's busiest days, when between 40,000 and 50,000 people will fill the fairgrounds after 4 p.m.
Esterline knows how intense days like that can be. She worked as an intern during the fair in 2012, the summer after a stage collapse killed seven people. She says following that tragedy, officials reviewed the plan they had in place, made changes, and are now better prepared for many potential threats.
"There's a much more prominent culture of safety," she says. "People want to make sure we're doing everything the right way."
Her interns help ensure the fairground's safety plan is working as it should. That includes responding to and writing reports for the more than 300 incidents during the fair. Those calls range from serious medical situations to missing people to a scraped knee and more.
"This isn't an internship where you follow us around making copies or getting coffee," Esterline adds. "It's a real job. I can't go to every incident run. We have to have staff who can respond as well, and these interns are part of that."
But Esterline says she knows the training O'Neill provides students means they're ready for any task.
"O'Neill students tend to be more prepared than others," she says. "In general, if we're looking for students who are really interested in public safety and have the knowledge and foundation to work in that field, we have always gone to O'Neill first."
Esterline is now helping students build their foundation. She's an adjunct faculty member, teaching students to ensure the next generation of public safety employees is ready for what they'll see in the field.
"The faculty in O'Neill have real-world experience," she says. "It's not just what they've studied or theorized. That's a huge benefit to students."
Esterline says one of those faculty members, Jim White, helped set her current career in motion.
"He said 'I don't care what your plans were this summer, go do this internship' and handed me the application," she recalls. "I did the internship, they offered me a job, and I never left."
She's quick to point out that she regularly hires interns. After all, the State Fair is just one act in the fairground's year-round circus.
"We have more than 300 events a year for which we handle safety and security," she says. "We've hired interns as full-time security officers while they're finishing school or while they're searching for an entry-level job."
Esterline says her interns have also gone on to work for the Indiana State Police and the FBI. But unlike those agencies, safety and security is just part of the Indiana State Fairground machine. They're really in the entertainment industry.
"You learn a lot and gain experience. At the same time, the atmosphere of the fair is very fun and our staff has a wonderful time," she says. "There are long days but every minute of it is great!"