The opioid epidemic continues to claim more than 115 lives per day across the United States. As researchers studying this epidemic, we feel it is important to update the residents in our community about the prevalence of opioid-related deaths here in Marion County.
In partnership with the Marion County Coroner's Office — and using our previously documented methodology, which looks at the detection of substances among accidental drug overdose deaths — we identified 403 accidental drug overdose cases in Marion County in 2017. The number of drug overdose deaths has nearly quadrupled since 2010 and there was a 17 percent increase from last year. You can access the data yourself here: https://dataworks.iupui.edu/handle/11243/22.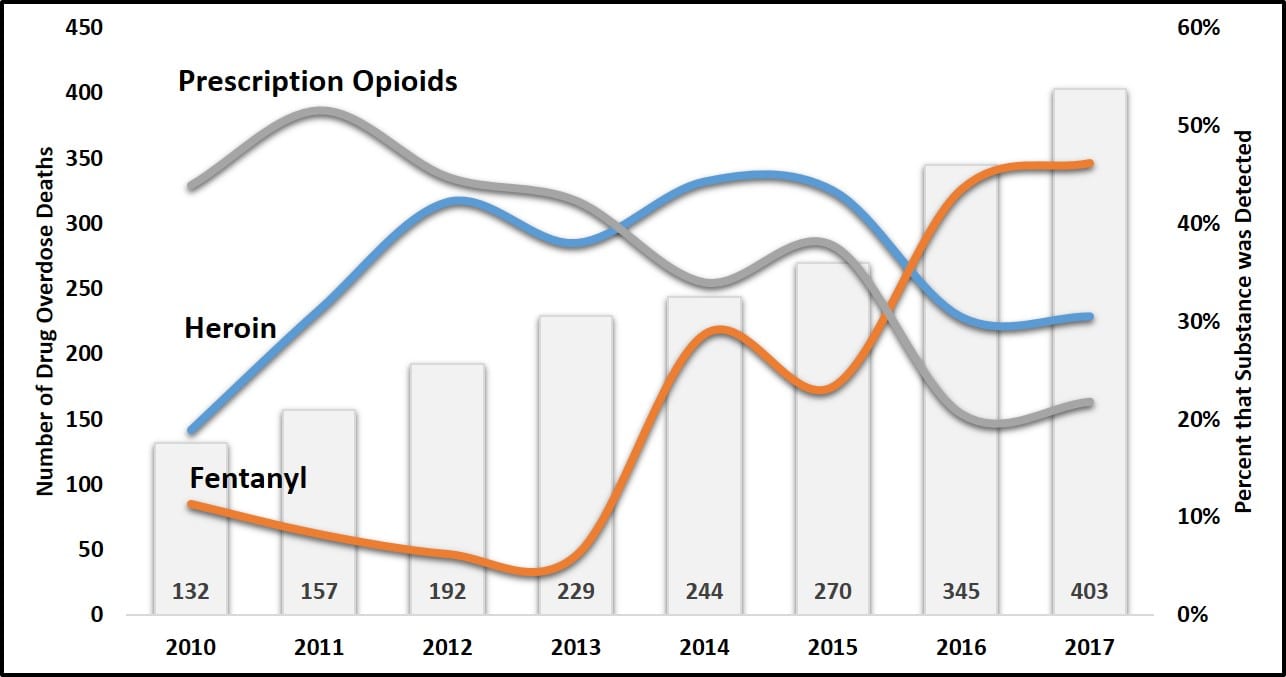 During 2017 we identified several noteworthy trends:
The number of overdose deaths containing an opioid continues to be more than 80 percent and the most commonly detected drug continues to be fentanyl (46 percent of all cases), a substance that is nearly 100 times more potent than heroin.
We recently published a paper in Addictive Behaviors showing that fentanyl-related deaths were increasing rapidly among African Americans in Marion County; a pattern that's consistent with national trends.
The proportion of overdose deaths with a prescription drug (oxycodone, hydrocodone, oxymorphone, and hydromorphone) has continued to decline and was 22 percent in 2017; however, it is important to note that of those deaths more than half also contained an illicit substance.
Also consistent with national trends, there have been increases in other illicit substances — primarily cocaine and methamphetamine — which were detected in nearly half of the drug overdose deaths. In 2017 we started a process where we were able to link other sources of data to the drug overdose deaths to identify potential intervention points. In doing so we found that one-third of those who died were dispensed an opioid in the year prior to their death; however, less than 10 percent of deaths resulted from prescription drugs alone.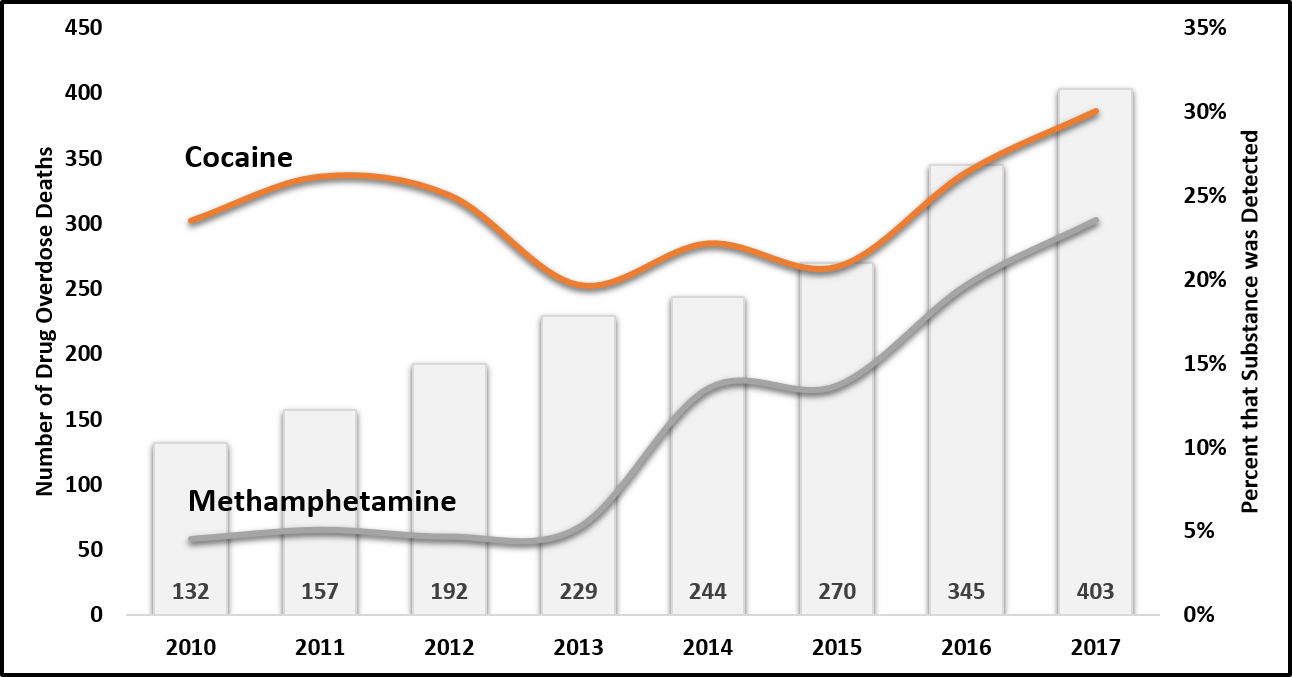 There are a lot of local efforts aimed at directly reducing the death toll here in Marion County. For example, Project POINT offers a gateway to recovery for those who have a non-fatal overdose event by linking them up to a peer-recovery coach in the emergency department. There are also efforts like the Behavioral Health Unit and Mobile Crisis Assistance Teams which attempt to divert person out of jail and into community-based treatment and services.
However, these interventions are relatively new, and while early research suggest promise, further evidence is necessary to discern the impact on drug overdose deaths. There is still much more that needs to be done.
As the Surgeon General recently recommend, all citizens should be equipped with naloxone. Overdose Lifeline is a grassroots organization that provides naloxone, as well as offering support groups and youth prevention programs. We also need to develop more innovative and feasible ways of getting naloxone into the hands of active users — instead of waiting for them to show up at a local health department or emergency room — and create welcoming spaces where people can engage in evidence-based treatment.
We are excited and supportive of efforts by the Marion County Public Health Department to develop syringe services in our community and have recently written a report detailing the benefits, barriers, and best practices for the implementation of syringe services programs. Click here to read this report: https://fsph.iupui.edu/doc/research-centers/SSP_Report_20180516.pdf
Finally, in an effort to further inform the citizens of Marion County, we have created data dashboards to show trends in substances detected in drug overdose deaths and where these deaths are concentrated geographically. We have also made these data publicly available; our hope is not only that seeing the massive increase in deaths here in our own city will spark more action to address this crisis, but also that these data can be used to assess future overdose trends.
Collection of the data described here was supported by the Grant Number NU17CE002721, funded by the Centers for Disease Control and Prevention. The contents of this piece are solely the responsibility of the authors and do not necessarily represent the official views of the Centers for Disease Control and Prevention or the Department of Health and Human Services. To cite the data please use the following reference: Ray, B., Watson, D. P., Huynh, P. & Ballew, A. (2018). Marion County Indiana Accidental Drug Overdose Toxicology Results (v1, 2010-2017). IUPUI University Library. http://dx.doi.org/10.7912/D2XQ09.