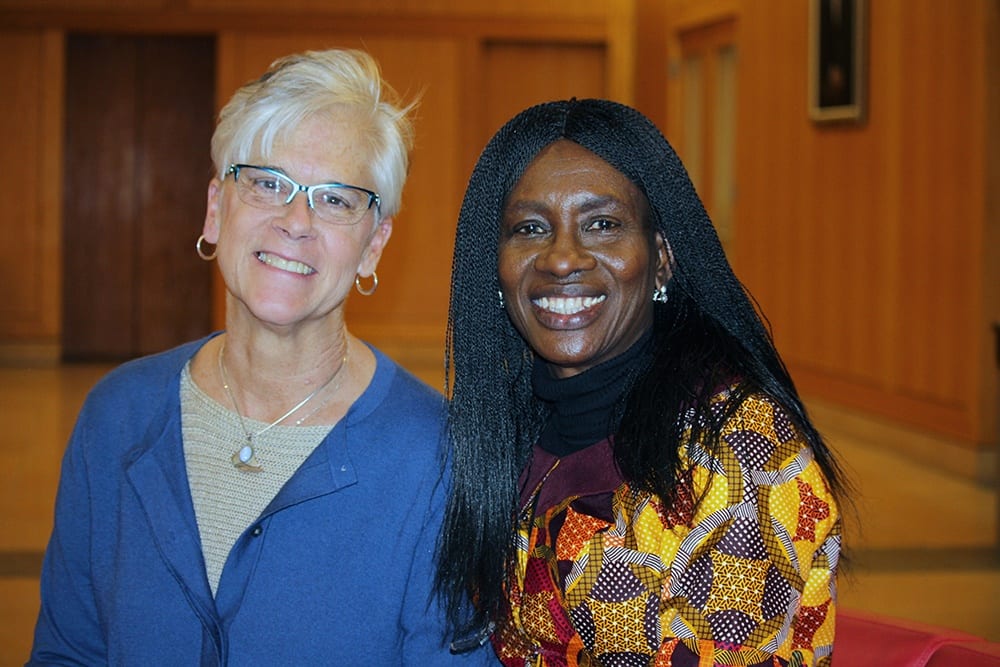 It's been nearly three decades since Ngozi Iwere embarked on her first social mission in Nigeria. She was instrumental in forming the Society for Women and AIDS in Africa-Nigeria, a group focused on working with communities to raise awareness of HIV and AIDS, while providing prevention education.
Not long after, Iwere founded the Community Life Project, an organization dedicated to partnering with groups in communities where residents were marginalized from mainstream communication channels. CLP partners with those groups to create opportunities for them to access information and resources to address key issues facing their individual communities.
"These groups could only do so much," she says. "They needed government and governance to work for them."
Yet Iwere says her nation's government was fraught with fraud and elected officials were not serving the public interest.
CLP began expanding its work to help communities address more issues that were rooted in economic, political, and resource inequality.
The small staff at Community Life Project worked diligently to partner with those managing the electoral process to improve its integrity. They're now working with other influential groups to improve Nigeria's overall political system.
Fast-forward to 2018, and Iwere has her eye on the future. She wants to ensure the momentum in that movement doesn't wane when she transitions out of a leadership role.
That's one of the reasons she applied for the Non-governmental Organizations Leadership Transition Fellowship Program, a partnership between the Association for Research on Nonprofit Organizations and Voluntary Action (ARNOVA), the Association for Research on Civil Society in Africa (AROCSA), and the Ford Foundation.
The program provides African NGO leaders a chance to write about and reflect on their work, broaden their professional networks, and prepare for a new chapter in their careers by working with mentors. That opportunity to mentor is what piqued the interest of SPEA's Executive Education director and clinical assistant professor Sara Johnson.
"I've spent my life mentoring people and working to influence leadership development," Johnson says. "There are successful leaders developing NGOs and grassroots activities around the world. As that founding leader retires, the organization's services can wane and dissipate in his or her absence. We can help them find ways to avoid that."
Johnson knew her experience in mentoring, leadership, and executive coaching could be a perfect fit for the program. She, along with SPEA IUPUI assistant dean Suzann Lupton and professor Lilliard Richardson, offered to serve as mentors in the program during the spring semester.
"What I read in Ngozi's personal statement was profound," Johnson recalls. "It was almost overwhelming to know where to begin the conversation."
Yet through their conversations, Johnson says Iwere had a potentially course-altering epiphany.
"She started to realize that it wasn't only the organization that needed to prepare for a transition; she also needed to ready herself for a personal transition of stepping out of her leadership role," Johnson recalls.
As the two strangers developed into colleagues, they met to discuss what Iwere's professional and personal transition could look like.
"Sara left room for me to have time to reflect on our discussions, while guiding me unobtrusively to find my own answers and solutions," Iwere says. "The greatest thing I've achieved here is a reflection of being. Where am I coming from? Where am I going? This has been a very good retreat in terms of what is happening inside of me."
Johnson says it was rewarding to watch Iwere find clarity on her path during their time together. While celebrating Iwere's progress, she acknowledges the lessons she learned from her mentee.
"I learned about perceptions of leadership through a different lens and how what we see as attributes can be very different," Johnson says. "It was an interesting dichotomy between what I know and teach, and the new dimensions of leadership she exhibited."
Both women are now looking ahead to what exciting new ventures may be on their horizons. For Iwere, that means transitioning out of her role at CLP and potentially returning to her roots in education.
"Sara's passion and love for teaching are contagious," Iwere says. "She rekindled my interest and I'm now seriously considering returning to teaching, as well as pursuing a degree from SPEA."
Johnson says Iwere's impact has broadened her vision when it comes to potential opportunities for Executive Education.
"This has caused me to look at the wide variety of global interests available," Johnson says. "To me, that's a perfect fit with what we do. We always look at ways to be more engaged internationally. There's potentially a door that has opened for us, as far as executive education in Africa."
But beyond the professional growth both mentor and mentee experienced are individual lessons about who they are and why they do what they do.
"Ngozi has a passion for what she's doing, and I have a passion for what I'm doing," Johnson says. "My time with her has reinforced to me just how impactful one's passion can be."
"I'm going to leave here with a better self-knowledge," Iwere says. "I have a clearer sense of my own direction. I don't have all the answers yet, but I'm asking the right questions now. I know that something inside of me is going to materialize and I'll have a better idea of how to best use my whole self when I leave the organization."