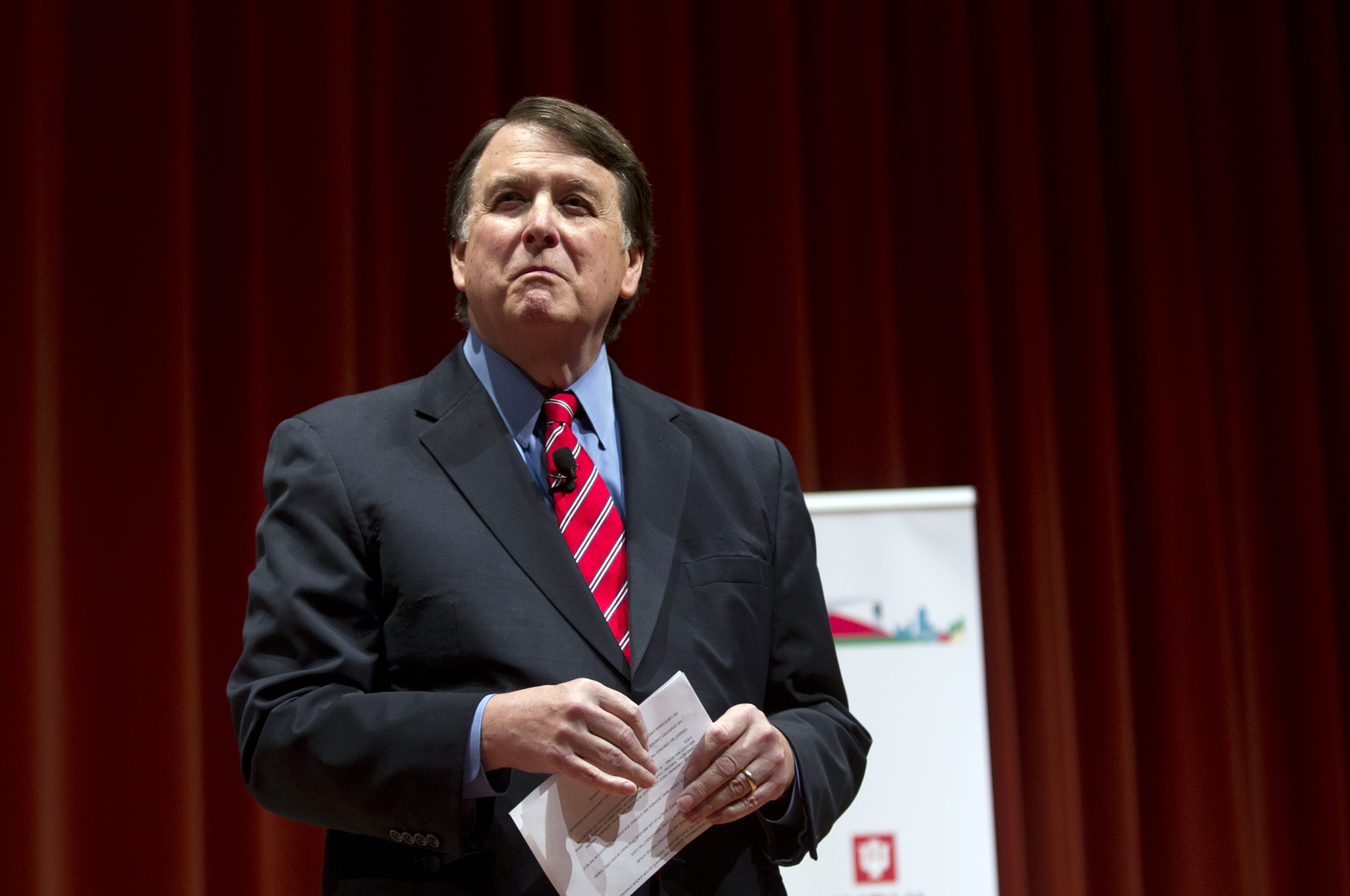 The Indiana University Public Policy Institute is holding a special symposium and reception to celebrate 25 years of helping decisionmakers across the state effect change and a better quality of life for Hoosiers.
Since 1992, PPI has served as a non-ideological research organization and neutral voice that helps political and community leaders understand the long-term effects of policy decisions. Providing services to nearly 200 organizations and agencies in government, and the nonprofit and private sectors, PPI and its centers have demonstrated that academic research can significantly improve state and local policy, and become a crucial statewide resource for community service, research, and analysis.
The one-day workshop and celebration will take place in Hine Hall on the IUPUI campus on Nov. 14.
Retired Indiana Chief Justice Randall Shepard (pictured) will be among numerous state and community leaders who will spearhead the day's festivities. Shepard will kick off the morning with a leadership and engagement conversation with the day's attendees.
The morning and afternoon will feature concurrent "Ideas to Action" workshops that will help spark ideas and leadership recommendations based on PPI's Thriving Communities, Thriving State reports. The morning workshop themes will be Education & Workforce, and Quality of Life. Afternoon sessions will focus on Government Innovation & Finance, and Entrepreneurship & Business Creation.
In addition to the morning plenary on leadership and the workshops, lunch will feature brief presentations from special guests who will highlight the progress their communities have made in implementing their own Thriving strategies.
The day will conclude with closing remarks from IUPUI Chancellor Nassar Paydar followed by a two-hour reception to celebrate 25 years of PPI's service to our communities and nation.
The event is free (guests will have to pay for parking) and community and state leaders are invited to participate in the day's workshop and/or the reception. Space is limited, and registration closes Nov. 10.
PPI 25th Anniversary Symposium
Full Agenda
Registration and light breakfast, 8-9 a.m.
Welcome and introduction of PPI Staff and Board of Advisors, 9:05-9:20 a.m.
Tom Guevara, PPI Director
Opening Plenary,  9:20-10:05 a.m.
A Leadership and Engagement Conversation with retired Indiana Chief Justice Randall Shepard
Coffee Break, 10:05-10:20 a.m.
Morning Concurrent Sessions, 10:30-11:45 a.m. 
Education/Workforce
Moderator

Maria Quintana, President, Q2u Strategic Advisory Group

Panelists

John Burnett, Community Education Coalition
Tina Peterson, CEO, Community Foundation of Bloomington/Monroe County
Sean Tierney, Indiana Commission for Higher Education
Quality of Life/Place
Moderator

Christina Hale, CEO, Leadership Indianapolis

Panelists

Veronica Watson, Director of Indiana Operations at Patronicity
Andy Fraizer, Prosperity Indiana
Kiera Amstutz, President and CEO, Indiana Humanities
Lunch, with brief presentation of Thriving Communities, Thriving State successes, 12-1:15 p.m.
Richard Aguirre, Director of Corporate and Foundation Relations, Goshen College
Dawn Brown, Grant County Community Foundation
Ryan Twiss, Northeast Indiana Regional Partnership
Tory Flynn, Hillenbrand, Inc.
Afternoon Concurrent Sessions, 1:30-2:45 p.m.
Government Innovation/Finance
Moderator

John Ketzenberger, Director, Indiana Fiscal Policy Institute

Panelists

Wes Bennett, Commissioner, Dept. of Local Government Finance
Kathy Davis, Owner, Davis Design LLC
Greg Goodnight, Mayor, City of Kokomo
Entrepreneurship/Business Creation
Moderator

Shawna Girgis, Mayor, City of Bedford

Panelists

Michael Huber, President and CEO Indy Chamber
Michael Wilcox, Purdue Center for Regional Development
Scott Fadness, Mayor, City of Fishers
Coffee Break, 2:50–3:10 p.m.
Closing panel and workshops wrap-up, 3:15-4:15 p.m.
Tom Guevara and four concurrent sessions panelists
Closing remarks, 4:15-4:30 p.m.
IUPUI Chancellor Nasser Paydar
Reception, 4:30-6:30 p.m.