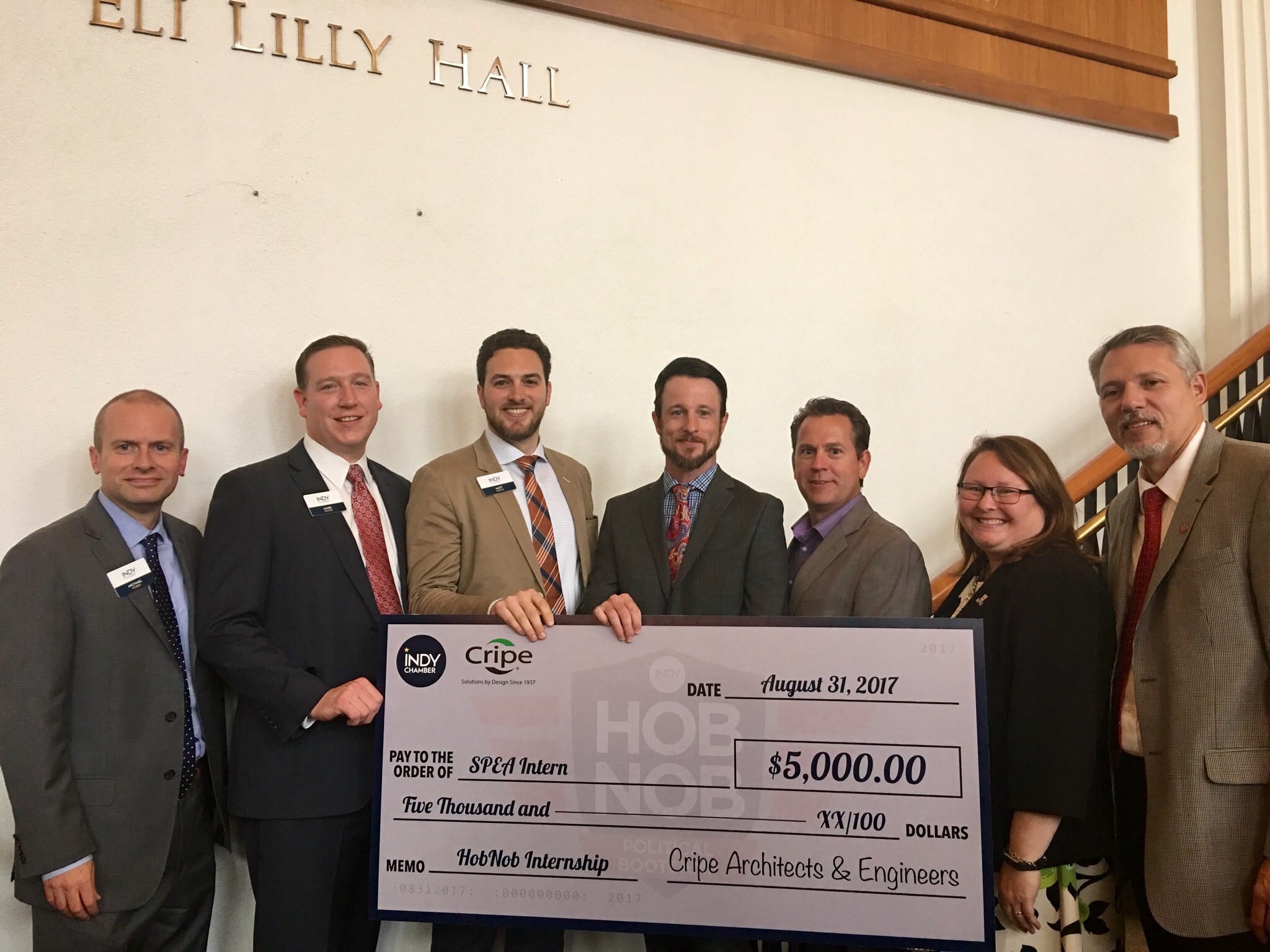 SPEA MPA candidate Andrew Bean was officially recognized as the 2018 Indy Chamber HobNob Policy Intern at a reception following the organization's "Political Bootcamp" on Thursday.
The internship, which includes a $5,000 stipend from Cripe Architects + Engineers, is awarded annually to a SPEA IUPUI graduate student who is interested public policy and political action and advocacy. The internship was first offered in 2004.
"I was elated and relieved," Bean said of hearing the news that he had been awarded this year's internship. "SPEA does a fantastic job of getting these types of opportunities in front of their students."
Bean, whose MPA concentrations are policy analysis and sustainability, will work as part of the Indy Chamber policy advocacy team during the next legislative session.
"I am very passionate about energy policy and environmental policy and that's where I'd like to transition my focus (after finishing my MPA)," Bean said. "I'd particularly like to work with an organization that either is key in advocating for or developing specific policies that bring about a new era of energy and environmental policy."
Bean is pursuing his MPA as part of SPEA's dual degree program with the Robert H. McKinney School of Law. He graduated from McKinney in 2015 and passed the Indiana Bar Exam in the summer of 2016.
"I love the law and have a real long background in it," said Bean, who worked as a paralegal for the Marion County public defender agency for seven years. "But I've wanted to transition into a more policy-driven area. I think this internship is one of the necessary things that'll help me to get focused back into that area."
Though he'll be working closely with lawmakers during his spring internship, Bean says he doesn't currently see a career in politics as part of his future.
"I would much rather be having the conversations that go on behind the scenes with politicians," he said.